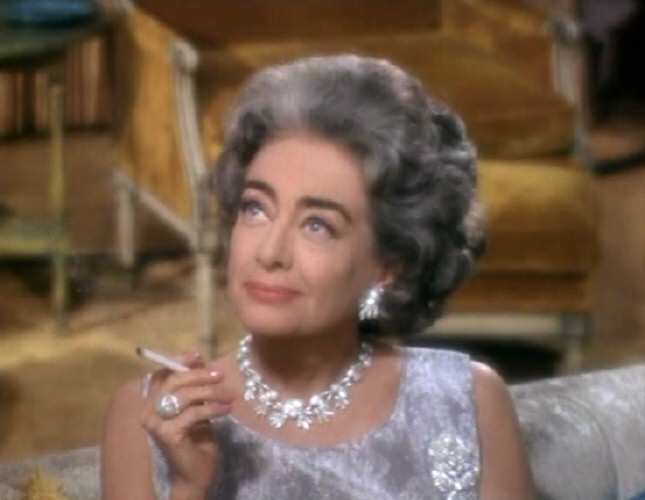 Whew! Haven't been over here in quite a while. Mostly I'm on my
Tumblr
these days, posting my own work (is it okay to shamelessly plug your own blog on another one of your own blogs? Probably not, but yolo.) And once again I am here to write not about a music video, this blog's intended purpose, but about a totally under-appreciated eye candy gem called
Della
.
This film is even more under-appreciated than
Black Narcissus
, which definitely seems to be considered cool among some film geeks and even got a screening at Film Forum. In fact, I only saw
Della
because I was at my folks' place in the burbs with nothing to do but binge watch Turner Classic Movies. This was after a night of watching
Blue Jasmine
followed by
What Ever Happened to Baby Jane
. Apparently I just can't get enough maudlin tales starring strong females, and neither could Joan Crawford late in her career.
It's not hard to figure out why this hidden gem has stayed hidden. It's mostly just a sad, desperate attempt to capitalize on the monster success of
Peyton Place
. The plot is held together by dental floss, nothing really makes sense, and the one guy who is supposed to explain everything never really does. Paul Burke, the male lead who was supposed to be the protagonist of the TV follow up, is lukewarm at best. Essentially this is a complete shitshow pilot episode, but with great production values.
But the hot mess that is
Della
is the perfect backdrop to allow the female stars to shine. And shine they do, in their sumptuous costumes and wacky yet palatial set. Joan Crawford is brilliant as Della Chappell, the wealthy and reclusive matriarch of a sleepy seaside town. Ms. Crawford is a caricature of herself with dramatically gray-streaked, severely bouffant hair and drag queen eye brows that Divine would appreciate. She still has her acting chops, though, and brings a fully-embodied, yet mysterious matron to the screen despite the flimsy writing. Diane Baker was handpicked by Ms. Crawford to play Della's daughter, Jenny, after they acted together in
Strait-Jacket
. Ms. Baker breathes life into her contrived damsel in distress and easily steals scenes from Paul Burke with winsome charm and credible depth. She even gamely holds her own next to the great Ms. Crawford.
The set and costuming are characters in themselves. We first get to be swallowed up by the strange and wonderful Chappell world when Mr. Burke's character Barney pays a visit to the family estate. Through foreboding gates and past a Greek frieze, is the
Chappell mansion
. Inside is a potpourri of colors, textures, and styles, from the post-Modern art to the Victorian-inspired wallpaper to the hodgepodge of antiques. I love that the art director, Gibson Holley, had a lot of fun with proportions and anachronistic details. The enchanting Chappell mavens are always dressed like goddesses, sometimes mythological goddesses, as in their diaphanous pink numbers in
this scene
, and sometimes contemporary '50s goddesses, as in their killer gray ensembles in this
one
. Both the set and wardrobe create a feeling that the Chappell world is both of its time and place and, at the same time, untouched by time and out of this world.
This project was originally titled Royal Bay and written to be just long enough for an epic pilot. However, it ended up being repackaged and released as a short feature named after Ms. Crawford's character. As the TCM website says, "
the would-be pilot made the fatal error of focusing, almost exclusively, on the only two characters the series would be missing, mother and daughter Della and Jenny Chappell," and I have to say that what was fatal for the planned Royal Bay is very, very good for us. The whole film is available for free on Youtube if you're okay with watching it in installments. I highly recommend. Except you might want to fast forward through all the scenes that don't include Ms. Crawford or Ms. Baker, unless you want a laugh.